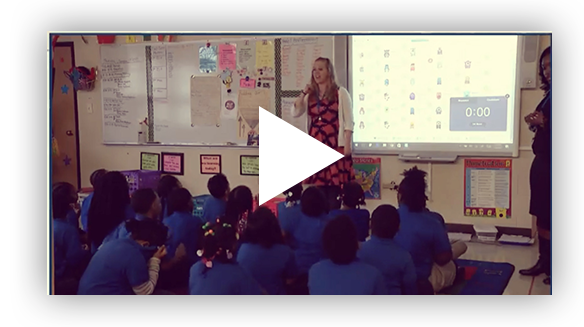 Milwaukee – Marissa Daniels, a 27-year-old African-American mother of two, knows well the debate about the Milwaukee Parental Choice Program, or vouchers. In fact, she left her former job and now seeks to become a teacher in a private school as a way to contribute to the future of Milwaukee's Black community.
"School Choice is an opportunity," she says boldly. "I know the debate, that some teachers understand choice as taking away from Milwaukee Public Schools. But they really don't understand. School Choice is about what a kid needs. It is about qualified teachers. A chance to go college. It is about hope and ability."
After hearing her husband talk about his teaching experience at Shining Star Christian School on Milwaukee's northwest side, Marissa decided to change her professional direction and work for the school, too, as a teacher's aide while she completes a bachelor's degree in education.
"I realize I could be more and help more than what I see going on in my community right now," Marissa says of her decision.
Extending to parents the option to send their children to a school that talks about Jesus that worships God, that has small class sizes and that cares for students can give parents hope about transcending the constraints they feel in their lives as African Americans in Milwaukee.
"We need hope in the inner city," Marissa says. What denies that hope now? "Poverty," she answers without a second's hesitation. "People do not have the ability to give their children what children need. Education is what they need to get out of this."
"At Shining Star," she adds, "students are not a number. A child needs love, and they get it here. The teachers here are dedicated. I see it in the eyes of the staff here, and it is really amazing."
As a former pastor, Executive Director John Mattek saw the potential to bring more hope to Milwaukee neighborhoods where churches had vacant schools. A little more than three years ago, Mattek approached several of the churches to see if they would support filling that vacant space with a Christian school that would extend a choice to parents that they otherwise would not have. The congregation at Abiding Word Lutheran Church at 94th Street and West Capitol Dr. saw the potential.
"Our goal has been to provide high quality education and form a partnership with a church that wants to help revitalize the community," Mattek explains.
Sylvia Cook, whose family has been part of Abiding Word for about 45 years, embraces the school and volunteers with the lunch program. A Latvian immigrant herself, Cook says she is proud to be a member of a church who has opened its door to students whose families struggle. She adds that she is impressed with what she sees and how students interact with her.
Kelyse, a third-grader, and her sister, Keliyah, a second-grader, enthusiastically talk about their school. Keliyah has been learning about states and capitals, loves ballet and has lots of friends. Her sister particularly likes religion class, in which she has learned about Moses and how he parted of the Red Sea. That kind of power captivates her, she explains.
For part of the day, the sisters are in the same classroom. Shining Star uses a blended learning approach to education, with personalized lessons intended to grow a student's proficiency through the use of technology, small group lessons and full classroom exercises, Mattek explains.
"The students we get are pretty low academically," Mattek says. "We have success with this approach to building their skills."
But educating students in poverty is as much about hope and vision as it is about academics. For Principal Lindsey Gerke, education is about "changing hearts."
A sea of students awash in blue sweatshirts sits cross-legged on the classroom floor, eyes focused on the teachers. It's time to remind them who they are. The teacher prompts the students to recite what it means to "s-h-i-n-e." The students smile and shout back that they're "scholars" ready to learn. They have a "heritage" as children of God. They are "individuals," who are unique and have unique gifts and talents. They are a "neighbor" to all. Lastly, they are to live their lives as "examples," as Jesus taught.
Gerke proudly watches the classroom respond, and adds that when many of the students first come to Shining Star, they have a fighting mentality, as though poised for battle when things don't go their way. But after a few weeks and thoughtful reminders, the chant being among them, the school staff begins to see transformation. "They catch themselves in their actions and begin to live out the hope we hold for them."